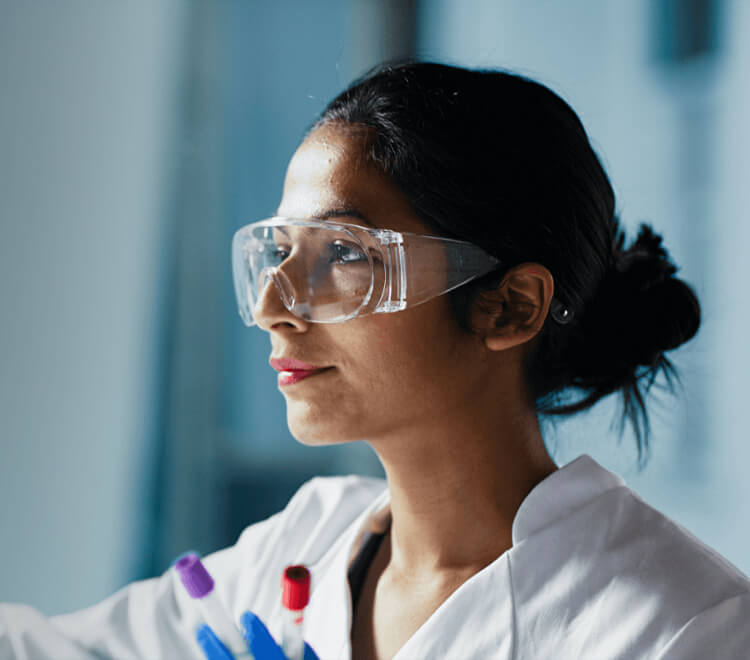 BIOPHARMA SOLUTIONS
Helping bring new cancer therapies to patients sooner
---
Guardant Health is proud to partner with over 150 biopharma companies to support their efforts in bringing the next generation of cancer therapeutics to patients sooner. Our scientists are pioneering multiomic approaches to power precision oncology with deeper insights. Our portfolio of innovative solutions and best-in-class services span translational research, clinical development and commercialization, and real-world evidence.
Contact Us
Harnessing the power of epigenomics for precision oncology
Epigenetic changes have a tremendous impact on cancer development and progression, yet epigenomic biomarkers remain untapped. Partner with Guardant Health to be on the cutting-edge of a new era that will ultimately lead to the development of more effective, targeted cancer therapies.
Learn about the Guardant Infinity platform
Add a new dimension of information to your view of cancer
The Human Genome Project revolutionized oncology research 20 years ago, and subsequent advances in next-generation sequencing-based liquid biopsy made tumor DNA more accessible. This enabled the development of many life-changing targeted therapies. However, genomics alone is a narrow view of cancer. Epigenetic alterations have been identified in numerous cancers1 and epigenomic information can provide critical insights into tumor heterogeneity2, disease progression3,4, and treatment response5. This additional dimension of insights enables more targeted and personalized treatment strategies.
Methylation sequencing dramatically improves sensitivity in cancer monitoring compared to genomic signals alone
Methylation sequencing features a lower limit of detection (LoD) and a signal independent from clonal hematopoiesis of indeterminate potential (CHIP) variants/biological noise6.
Illustration of late-stage circulating tumor fraction (TF)
With a lower LoD, methylation signal can identify and quantify tumor signal in early and late-stage cancers with as low as 0.001% circulating tumor fraction, enabling identification of tumor signal in 15-50% more cancer patients compared to genomic signal alone6.
Discover the next generation of biomarkers
Promoter methylation and unique methylation signatures can serve as novel epigenomic biomarkers for multiple precision oncology applications. Research has already shown that these next-generation biomarkers have the potential to:
Expand patient reach by capturing alterations not identified through genomic biomarkers11
Predict therapeutic response and overall survival12,13,14
Improve patient stratification by revealing more cancer subtypes and introducing additional biomarkers15,16
Access deeper insights with our innovative methylation technology
With the Guardant Infinity platform, you can access epigenomic insights for your translational research today. Epigenomic coverage allows for less sample input requirements and improves sensitivity over traditional bisulfite-based methods17.
Molecular recovery of Guardant Infinity methylation technology compared with bisulfite methods
Increase sensitivity in ctDNA detection with up to 1300% greater molecule recovery over conventional bisulfite-based methods17.
Contact Us
Contact our biopharma team to see how we can help you accelerate precision oncology and bring the next generation of cancer therapies to patients sooner.